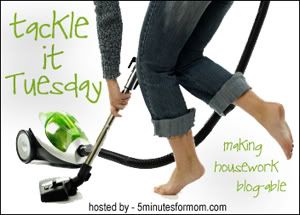 This is my first post for Tackle it Tuesday. I've been thinking about it for some time, and if there's something I need, it's motivation to tackle certain projects. Today I picked what is probably the easiest, yet the one project I always put off: Cleaning and organizing the bathroom cupboard.
Before:

There is one more shelf above that you cannot see, but I have a hard time reaching it. so it only has lightbulbs and such on it. The bottom shelf is what I dread. It consists of my diabetic supplies, hair care items (I have a huge supply of scrunchies, headbands, clippies, etc), and extra health care items.
After:

You can see the top shelf in this one. I was able to stand on my tip toes and place my extra shaving cream up there and still reach it. Good think hubby is a little taller than me. LOL
To see more projects go
here
and scroll down.